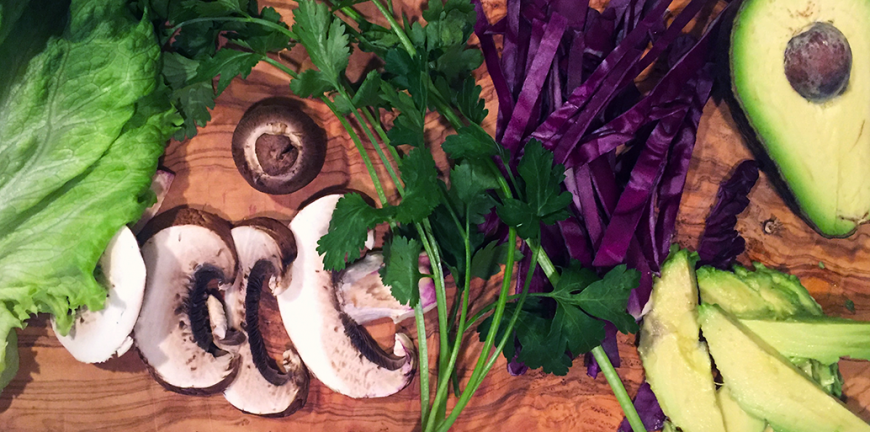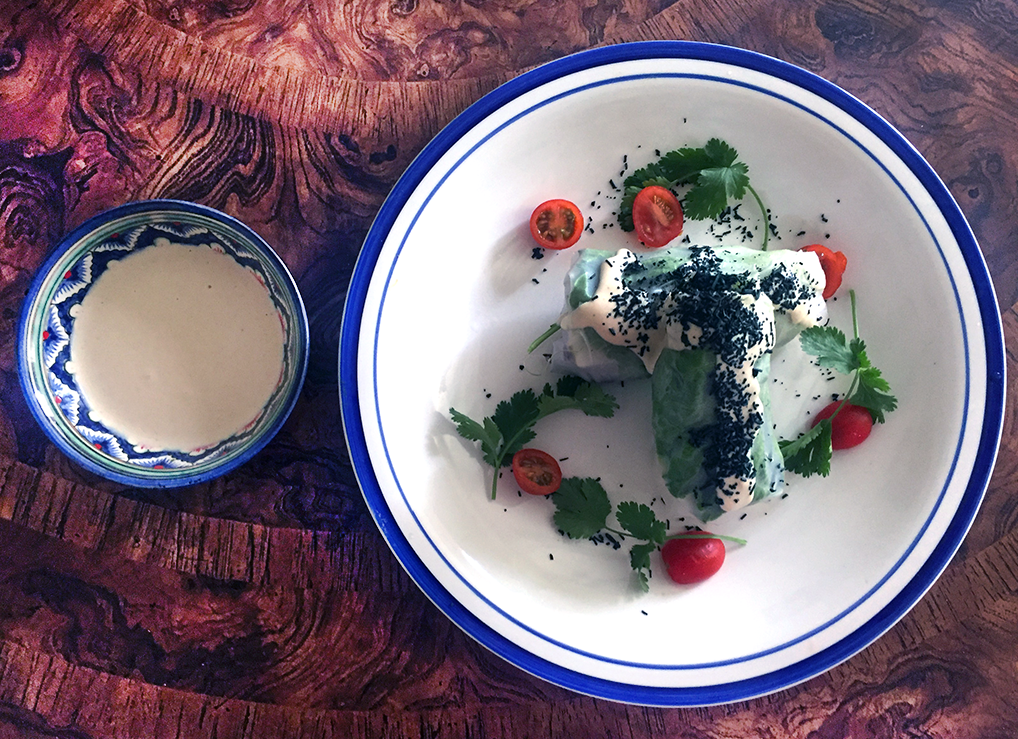 Spring rolls are a delicious side dish to any Asian-influenced meal or can be a great snack on their own. As filling we use avocado, mushroom, shredded red cabbage, lettuce, cilantro and parsley. You can also use tofu, bell pepper, carrot, cucumber and grated fresh ginger. Anything goes, the options are endless!
Start with cutting and preparing the vegetables and the other ingredients that's going into the wraps. Then place the spring roll wrapper into warm water until soft and pliable (about 10-15 seconds). Remove wrapper and lay down on flat surface. Place filling in the middle and fold over the bottom and sides. Roll wrapper upwards to form a neat roll.
Serve right away or deep-fry for about 2 minutes. You can also bake the rolls. Place them on a baking sheet that's been coated with cooking oil spray. Also spray the rolls and bake at 375 degrees for 6-8 minutes, until golden brown.
Serve with Lemon Tahini Sauce on the side for dipping. Sprinkle spirulina over the rolls, or dip them in a bowl with spirulina sprinkles.

LEMON TAHINI DIPPING SAUCE
Tahini is a paste made of sesame seeds that's used in Middle Eastern or Mediterranean dishes. It is also widely used in Chinese and South East Asian cuisine.
Whisk together equal parts tahini and fresh lemon juice, then add a splash of olive oil, salt, and a bit of maple syrup (optional). Once you've whisked together these ingredients, the dressing will be thick. Add water until it comes to the desired consistency that's easy to dip. Brands of tahini can vary a lot from very creamy to chunky and thick, so adjust as needed. Some brands of tahini will need to be stirred for several minutes to make sure the desired consistency is reached, like with peanut butter.