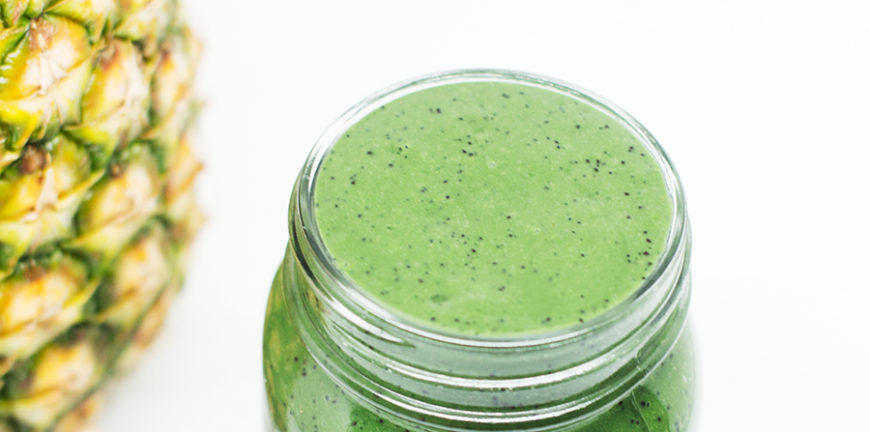 This is a creamy green smoothie made with pineapple, banana, coconut milk, ginger, lime and greens. It's the perfect balance of tart and sweet. THE BEST summer smoothie ever.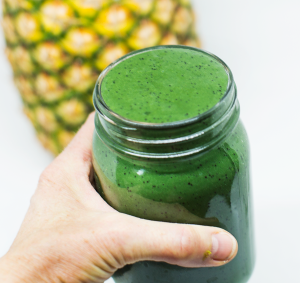 Ingredients:
1 Tbsp fresh ginger (skin removed)
1/2 medium lemon or lime, juiced (1 Tbsp)
1/3 cup light coconut milk (from the can, or sub from the carton)
1 1/2 cups chopped frozen pineapple
1 small ripe frozen banana (previously peeled, sliced and frozen)
1 small handful kale (or spinach or something else green and leafy)
1/2 avocado (optional)
2/3 cup unsweetened plain almond milk
3/4 cup water (adding more, if needed, to thin)
1 Tbsp maple syrup or agave nectar (optional )
1 -2 Tsp spirulina sprinkles (pre-soak the sprinkles for an hour or even  overnight for a more creamy looking smoothie).
Instructions:
1. Add all ingredients to blender. Blend thoroughly on high speed until completely smooth. If it isn't quite blending, add a bit more water or almond milk.
2. Let blend for 1-2 minutes on high so everything gets very well blended together, especially the ginger.
3. Taste and adjust flavor and sweetness as needed, adding a bit more frozen banana or sweetener of choice, lemon juice for acidity, or coconut milk for creaminess.
4. Serve immediately. Store leftovers in refrigerator for a day or so, though best when fresh.